ask Tri-C - Get Answers

Books Required for Classes
Students that have registered for classes can view or purchase textbooks online in my Tri-C space:
• Click on the Registration page
• Click "Find Textbooks"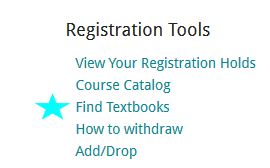 For more information, please contact the Bookstore directly by clicking
here
.
Was the answer satisfactory? If not, please EMAIL us by clicking the link below.