ask Tri-C - Get Answers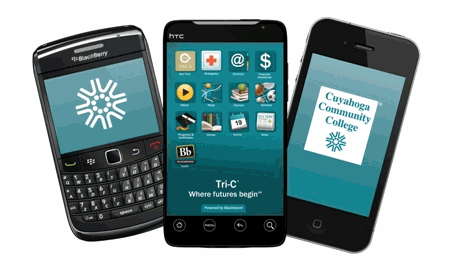 Tri-C Mobile
Tri-C mobile is a mobile app that allows the Tri-C community access to a range of essential campus life information and services such as interactive campus maps, courses, events, campus news, and directory information, all on the go, directly from a mobile device. The service is free and can be downloaded from all major app stores: Apple App Store, BlackBerry App World, and Android Market. More information is also available on the Tri-C Mobile home page.
Tri-C mobile users can access their blackboard courses with Blackboard Learn, all other courses are available for view with the course catalog. Here you can see course descriptions for current and future semesters, view course availability, class locations, instructors and more.
Blackboard Learn is not included in the Tri-C Mobile app for BlackBerry. However, students are able to download the Blackboard Mobile Learn app separately through the BlackBerry App World.
Tri-C Mobile is now available for Android, iOS for iPhone, and BlackBerry.
Was the answer satisfactory? If not, please EMAIL us by clicking the link below.