ask Tri-C - Get Answers

Changing/Updating Personal Information
Students are able to update personal information such as last name, address, telephone number, email and academic major by submitting changes through the Online Change Form for their campus. Once logging into my Tri-C space, select the Student page.  Several options are available to update your information.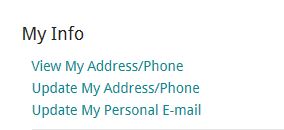 To update any other information please contact the Enrollment Center.
Students are required to notify the College of an address change.  A change of address does not automatically change residency status for the benefit of tuition charges.  Please visit our College Catalog, or click here for additional information regarding residency requirements. 
Was the answer satisfactory? If not, please EMAIL us by clicking the link below.